mercredi 29 août 2012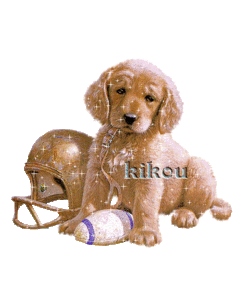 tout le monde!
Hello my friends!
Il fait toujours aussi superbe en Belgique et j'espère que c'est pareil chez vous tous! Me voilà rentrée de quelques jours de vacances à la mer. Jeudi dernier, zhom a décidé en dix minutes de partir pour une petite escapade qui nous a d'ailleurs fait le plus grand bien!
It always makes so magnificent in Belgium and I hope that it is the similar at home all! Here I'm brought in by a few days of holidays at the seaside. Last Thursday, zhom decided in ten minutes to leave for a small escapade which moreover made us the biggest property!
Une fois rentrée, je me suis de suite redirigée vers ma scraproom biensûr, lol.
Once brought in, I redirected in succession towards my scraproom of course, Lol.
Alors, aujourd'hui, je viens vous montrer un petit home déco réalisé pour divers challenges. Il s'agit d'une carte, coffret naissance garçon :
Then, today, I come to show you a young home decoration realized for diverse challenges. It is about a card, casket birth boy :
- Defi 35 du blog "Ribbon Reel": Inspiration photo (bleu, blanc, vert pâle, crème) + fanions + thème "bébé" - Inspiration photo (blue, white, pale green, cream) + pennants + topic "baby".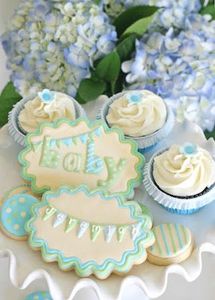 - Defi 37 du blog "Creatalicious": fée, licorne ou bébé - Fantasy theme (Fairies, unicorns or monsters) or baby theme.
- Defi 6 du blog "Fashionista": projet enfant - baby.
- Defi 146 du blog "Totally Gorjuss": bébé - baby.
- Defi 30 du blog "A and T Emerald Faeries": Punches/dies.
- Defi 127 du blog "Crazy Challenge": n'importe - anything goes.
- Defi 1 du blog "Challenges 4 Everybody": n'importe - anything goes.
- Defi 2 du blog "QKR stampede": n'importe - anything goes.
- Defi 231 du blog "Cute Card Thursday": Qui brille - Bling it Up!
- Defi 86 du blog "Wags'n Wiskers": Combinaison couleurs préférées - Favorite Color Combination.
- Defi 30 du blog "Love To Create Challenge": fleurs maison - Hand Made Flowers.
Voici en images!
Here is in images !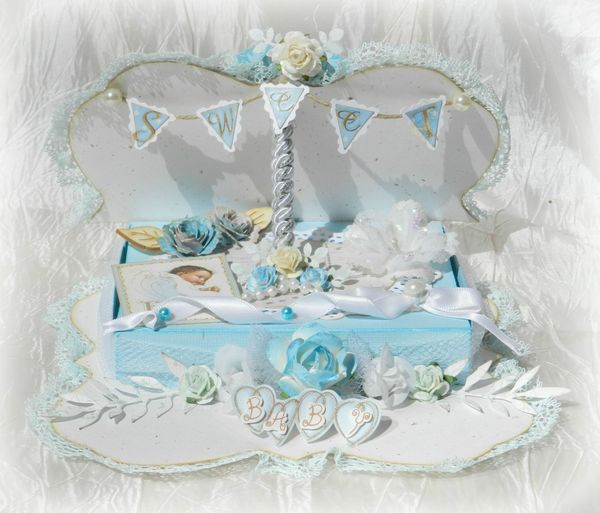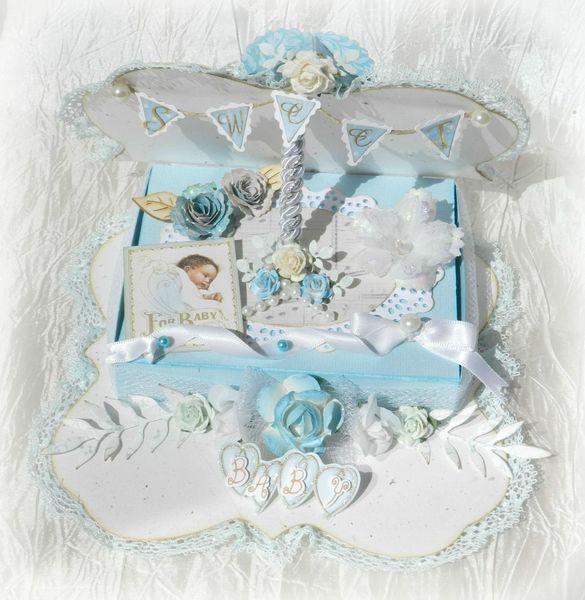 La base de se projet est réalisé dans un papier Kraft blanc de la marque Toga, collection "Mahé". Elle est encré avec de l'encre Distress Tea Dye. Pour la réalisation de la boite à surprises, j'ai utilisé un papier Bazzil Cardstock Bling bleu. La petite boite est collé sur la base et le couvercle (demi) est collé à l'arrière afin de rester en hauteur. Un petit curdent recouvert de cordelette sert de "Bloc" pour éviter que le couvercle ne retombe. Une petite dentelle vert pâle fait le tour coplet de la base.
The base of project is realized in a brown wrapping paper white with the mark Toga, the collection " Mahé ". It is inked with some ink Distress Tea Dye. For the realization of the box with surprises, I used a paper blue Bazzil Cardstock Bling. The small box is stuck on the base and the lid (half) is stuck in the back to stay in height. A curdent young covered with cord serves as "Block" to avoid that the lid falls again. A small pale green lace makes the coplet tour of the base.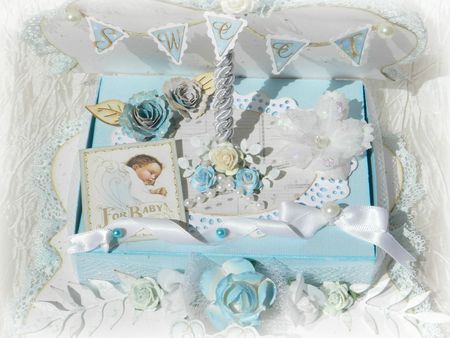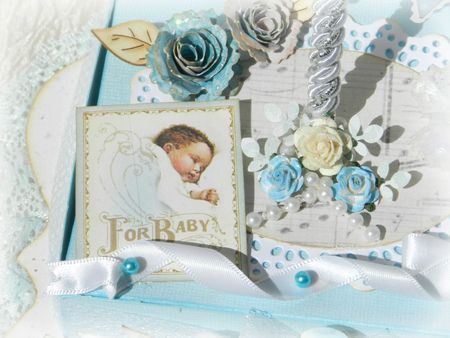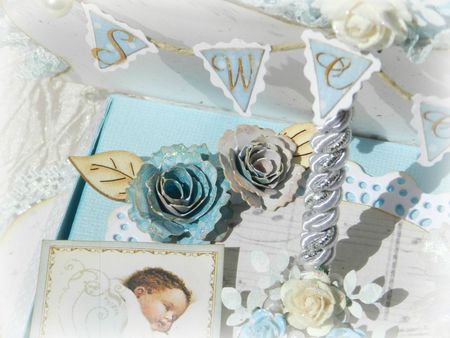 Du tule blanc fait le tour de la boite pour finir à l'avant par un petit noeud.
Sur le couvercle, un die cut oval est mis en volume grâce à du mousse 3 D. Une chute de papier crème "Partition de musique" est collé au centre de ce die-cut.
Quelques roses provenant de la boutique "Wild Orchid Crafts" sont collées à la base du cure-dents et recouvertes de Glitter Stickels Icicle. Quelques perles, une étiquette "Graphic 45" et un ruban satin blanc décorent le devant.
Les deux fleurs à l'arrière gauche sont réalisées à l'aide d'une matrice Dynamics et à la Cuttlebug. Elles sont encrés puis recouvertes également de Glitter Stickels Icicle. Les petites feuilles sont faites à l'aide d'une petite perforatrice.
Of the white tule made the tour of the box to finish in front by a small knot.
On the lid, a die cut oval is put in volume thanks to of foam 3 D. A fall of paper cream " Music partition " is stuck in the center of this die-cut.
Some roses resulting from the shop " Wild Orchid Crafts " are stuck on the base of the toothpick and covered with Glitter Stickels Icicle. Some pearls, a label " Graphic 45 " and a ribbon white satin decorates the front.
Both flowers in the back left are realized by means of a matrix Dynamics and in Cuttlebug. They are inked then covered also with Glitter Stickels Icicle. The small leaves are made by means of a small puncher.
Sur le bord avant de la boite, j'ai collé quelques fleurs et deux branchages également réalisés avec la cuttlebug et une matrice Dynamics.
On the edge before of the box, I stuck some flowers and two boughs also realized with the cuttlebug and a matrix Dynamics.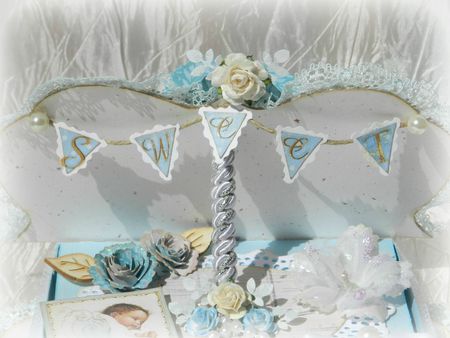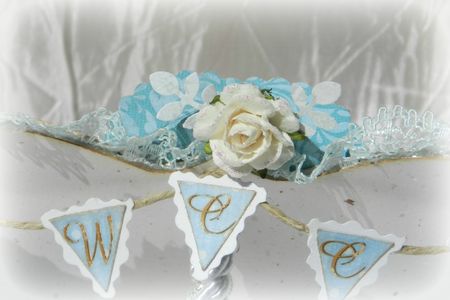 Une petite décoration réalisée avec des die cut "rond festonné", quelques roses et quelques feuilles ornent le haut du coffret. Enfin, un petite bannière faite maison sert de support pour mon titre "Sweet".
A small decoration realized with die cut " scalloped circle ", some roses and some leaves decorate the top of the casket. Finally, one girl home-made banner serves as support for my title " Sweet ".
Et voilà pou mon dernier petit home déco! J'espère qu'il vous a plus et je vous remercie tous dors-et-déjà pour vos passages ici et vos adorables commentaires.
And here is louse my last young home decoration! I hope that it has you more and I you thanks all already for your passages here and your adorable comments.
Bonne journée à tous et à plus tard!
Good day in all and in later!
Scrapbizsssssss
Scrapkissesssssssss

Commentaires
Poster un commentaire