vendredi 17 août 2012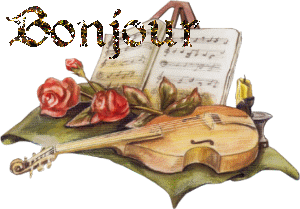 tout le monde!
Hello my friends!
Ce matin, je viens vous montrer un home déco réaliser pour ma fille, Katlynn. Une suspension Coeur et Ailes, représentant l'adorable petit ange qu'elle est. Ce thème la représente à merveille! La photo est sa toute première photo scolaire que je trouve superbe, surtout pour une première. En général, les enfants de cet âge ont peur et les photos rarement réussies. Je suis contente de cette première.
This morning, I come to show you a home decoration to realize for my daughter, Katlynn. A suspension Heart and Wings, representing adorable small angel that she is. This theme represents her marvelously! The photo is its very first school photo which I find magnificent, especially for the first one. Generally, the children of this age are afraid and photos rarely successful. I am satisfied with this first one.
Ce home déco entre pour plusieurs défis:
This home decoration enters for several challenges:
1) Défi Août du site "Berry71Bleu Challenge": Ailes - Wings.
2) Défi Août du site "That Craft Place Challenge Blog": Quelque chose avec des aies - Thing with Wings Challenge.
3) Défi 144 du site "Totally Gorjuss": dentelle - Lacy lacy.
4) Défi Août du site "Stampalot Challenge": Take Flight.
5) Défi 15 du site "Stampin'for the weekend": Monochromatique.
6) Défi 32 du site "Charisma Cardz défis": Monochromatique.
Voici en images:
Here is in images: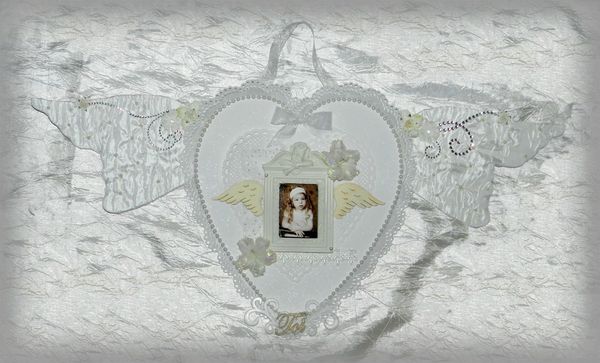 Toute la structure est réalisée dans du carton mousse de 3 mm d'épaisseur. Le carton mousse est génial pour ce genre de projet car solide, il se découpe facilement à l'aide d'un simple cutter. Le papier de fond du coeur est un cardstock blanc sur lequel j'ai pulvérisé de l'encre Glimmer Mist Pearl. Un napperon de pâtisserie en forme de coeur est collé au centre. Sur la gauche, j'ai apposé un morceau de tissu transparent à pois argentés. Le tour du coeur est décoré d'un ruban de perles nacrées et de dentelle blanche.
All the structure is realized in some cardboard foams 3 mm in thickness. The cardboard foams is brilliant for this kind of project because solid, it stands out easily by means of a simple cutter. The thorough paper of the heart is a white cardstock on which I sprayed some ink Glimmer Mist Pearl. A place mat of heart-shaped cake store is stuck on the center. On the left, I affixed a piece of polka-dot transparent fabric silvered. The tour of the heart is decorated with a ribbon of pearly pearls and with white lace.
En détails: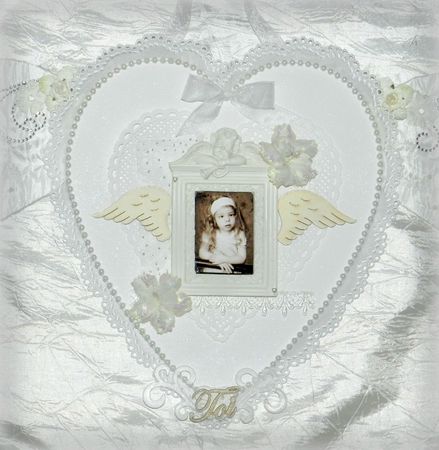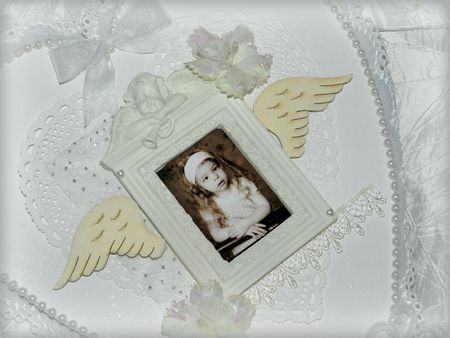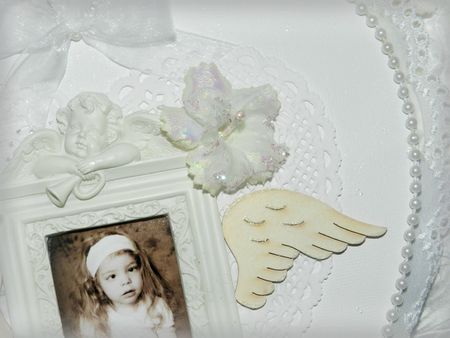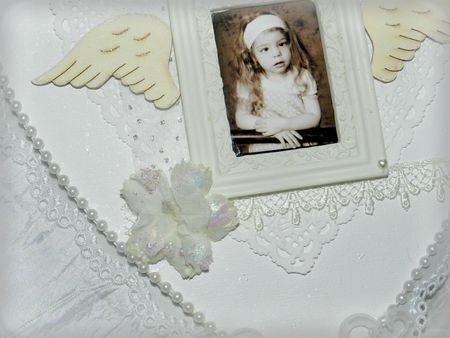 Le cadre en plâtre est un cadre acheté dans une solderie ainsi que les deux fleurs pailletées. Les ailes et le titre "Toi" sont des produits Embelliscrap sur lesquels j'ai mis du Glitter Stickels Diamond. Les ailes sont collés avec de la mousse 3 D pour donner du volume. J'ai ajouté des petits points de Liquid Pearl White Opal pour donner un peu de mouvement à mon fond.
The frame in plaster is a frame bought in a discount shop as well as both spangled flowers. Wings and title "You" are products Embelliscrap on which I put of the Glitter Stickels Diamond. Wings are stuck with the foam 3 D to give of the volume. I added Liquid Pearl White Opal's petit points to give a little of movement to my bottom.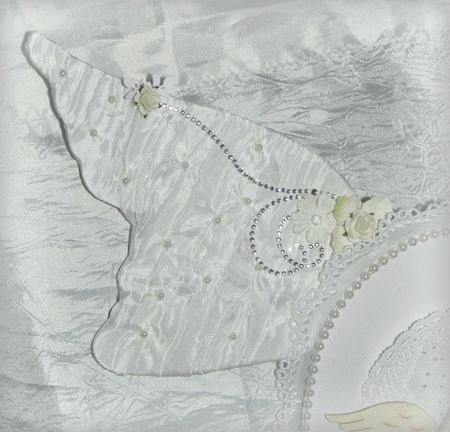 Les ailes sont d'abord peinte avec du Gesso puis recouvertes de tissu blanc froissés par endroits. Des demies-perles blanches nacrées sont collées à chaque froissement. Les doodlings strass sont des embellissements de la marque Prima Marketing.
Wings are painted at first with Gesso then covered with white fabric creased by places. Pearly white half-pearls are stuck on every rustle. Doodlings pastes are embellishments of the mark Prima Marketing.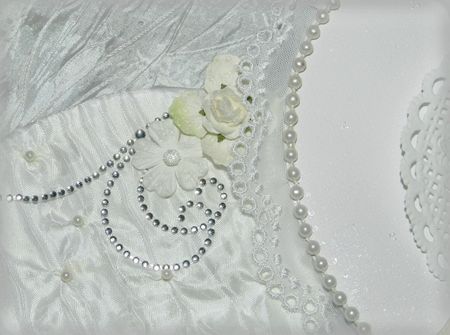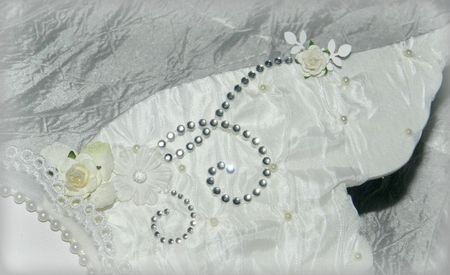 Pour le reste de la décoration des ailes, il s'agit de fleurs Hydragénas Prima, des fleurs plates et des petites roses blanches Wild Orchid Crafts et des pistils venant de la boutique "Le scrap des Lutins". Les feuilles sont réalisées à l'aide d'une petite perforatrice.
For the rest of the decoration of wings, it is about flowers Hydragénas Prima, about flat flowers and about small white roses Wild Orchid Crafts and about pistils coming from the shop " Le scrap des Lutins ". Sheets(leaves) are realized by means of a small electric drill(puncher).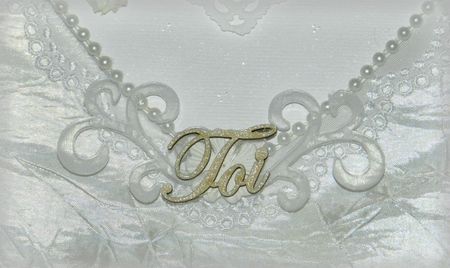 Sur la pointe du coeur, j'ai collé un embellissement en plexi provenant également de la boutique Embelliscrap que j'ai encré avec de la Stazon blanche.
On the point of the heart, I stuck an embellishment plexi also resulting from the shop Embelliscrap that I inked with white Stazon.
Et voilà, vous savez tout sur ma réalisation. J'espère qu'elle vous plaît et j'en profite encore pour vous remercier pour vos petits mots que vous me laissez à chaque fois.
And so, you know everything about my realization. I hope that it pleases you and I still take advantage of it to thank you for your small words which you leave me every time.
Je vous souhaite une excellente journée et vous dis à très bientôt avec d'autres réas.
I wish you an excellent day and say to you in very soon with other réas.
Scrapbizssssssssssssss
Scrapkissesssssssssssss

Commentaires
Poster un commentaire